Meet the Canyon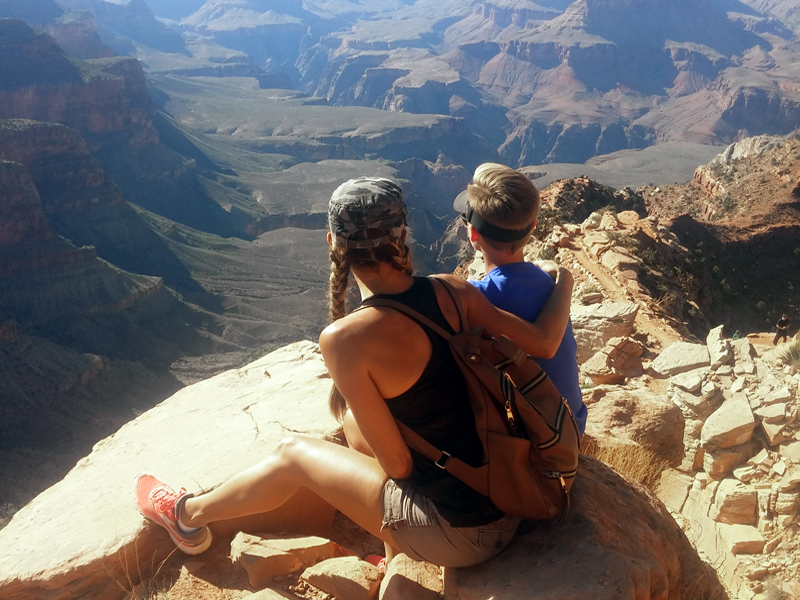 Let our family show yours why they call it the Grand Canyon. During a private guided tour, a Field Institute instructor will weave the canyon's story on short hikes, both above and below the rim, to amazing destinations.
Meeting at Maswik Lodge at 8:30 am you proceed to the nearby Bright Angel Trail (we're experts on the South Kaibab, Hermit and Grandview trails too) after a brief introduction and safety talk. This historic rim-to-river trail has a great deal to offer the inquisitive hiker. Ancient rocks and fossils, prehistoric Indian inscriptions, amazing plants and animals, and some of the most breathtaking views in North America will be yours to enjoy. How far you descend will be determined by the group's hiking strength, interests, and the prevailing weather conditions. Once back on the rim, your instructor will introduce you to an array of historic buildings (each with an amazing story to tell) and the sweeping views that are to be found nearby. Your day will end in the late afternoon, much the same way it began; surrounded by compelling views of the world's most famous chasm.
Notes
Children must be 8 years or older.
Where should you Stay? Check here.
Looking to hike a different trail? Rim Trail, South Kaibab Trail, Hermit Trail or Grandview Trail ..... we can do that too!